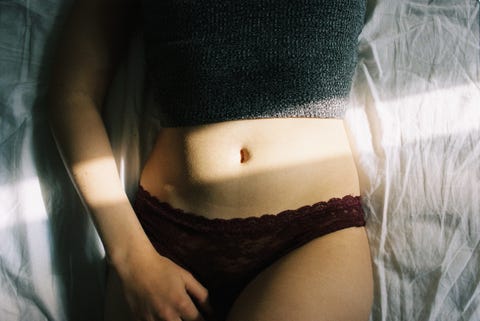 Baturay Tungur / EyeEmGetty Images
Coronavirus put paid to pretty much every element of everyday life. From shopping, to offices, to, erm, financial stability, the disease turned it all upside down.
You might not have noticed unless you were due one or had an appointment booked, but the pandemic also disrupted the cervical screening programme, AKA smear tests, across the UK.
It is estimated over one million people across the UK have been unable to access screening over the past few months. Programmes in Scotland, Wales and Northern Ireland have been paused, while in England many GP practices have stopped or reduced the number of appointments available.
The good news is that – in England at least – smear tests are now being offered again, while plans to restart cervical testing are underway in Scotland, Wales, and Northern Ireland.
But new research from Jo's Cervical Cancer Trust, which coincides with Cervical Screening Awareness Week this week, has found that while 40% of women would feel relieved to be able to go to a cervical screening, around one in eight women (12%) say they feel less likely to attend than before the COVID-19 pandemic and 13% think it is best to put off going for cervical screening at the moment. Jo's Cervical Cancer Trust says that its helpline has seen a growing level of anxiety and confusion around cervical screening since the pandemic began.
Concerns around safety (11%), not wanting to put 'additional strain' on the NHS (15%), shielding or protecting others (13%), and uncertainty over changes to cervical screening are just some of the factors impacting decisions on whether to attend. A quarter of women are worried about their risk of coronavirus if they go.
This is – of course – concerning: smear tests check the health of the cervix and are designed to prevent cancer. All women and people with a cervix between the ages of 25 and 64 are invited by letter. Let's face it: although they weren't exactly a diary highlight pre-pandemic, it's still incredibly important that women attend the screenings. Five million women are invited for cervical screening each year in the UK with around 3.5 taking up their invite.
Robert Music, Chief Executive of Jo's Cervical Cancer Trust, says: "Cervical screening isn't always the easiest test and we must try to prevent coronavirus making it even harder. We want every woman to have the information and support they need to feel able to make decisions about their health."
For more information about cervical screening and coronavirus, visit Jo's Cervical Trust's list of FAQs here.
Cosmopolitan UK's July issue is out now and available for purchase online and via Readly. You can also SUBSCRIBE HERE or read on Apple News+. Find our podcast 'All The Way With…' on Spotify, Apple Podcasts and the Acast app.
Like this article? Sign up to our newsletter to get more articles like this delivered straight to your inbox.
SIGN UP
This content is created and maintained by a third party, and imported onto this page to help users provide their email addresses. You may be able to find more information about this and similar content at piano.io
This commenting section is created and maintained by a third party, and imported onto this page. You may be able to find more information on their web site.